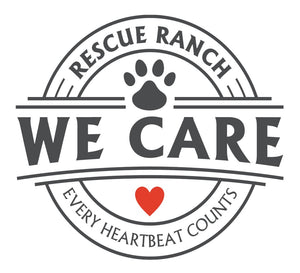 We Care Rescue Ranch Shipping Label
Regular price $20.00 Sale
We Care Rescue Ranch, Inc. (WCRR) is a 501(c)(3) charitable organization: EIN 84-4050030 dedicated to breaking the cycle of pet homelessness and reducing the number of animals that are euthanized in our shelters each and every day.
Through our program SnypOC a targeted spay/neuter initiative, we strive to stop the problem at its core- reducing the birthrate. We work with the community, local animal shelters, rescue groups, veterinary professionals and volunteers to provide free and low cost spay/neuter services and assistance, microchipping, education and more to the residents of Orange County and surrounding areas. 
We Care rescue Ranch Happy accepts the following items:
ANY pets supplies, collars, leashes and harnesses, crates, kennels, pet carriers and travel bags, cat litter & boxes/ liners, potty/training pads, food/water bowls, pet beds, dog beds, pads or mats, blankets, towels and cooling and heating pads, dog and cat toys. Unopened pet food, treats and long last bones/chews even peanut butter. Grooming Supplies: shampoos, combs, brushes, nail clippers, haircutting scissors, etc. Animal meds, flea and tick medication, 
Baby items: playpens, gates, blankets, towels, monitors, bedding, nursing bottles, pacifiers and Baby wipes and baby and children's socks (these are used to keep the animals feet warm during surgery).
Office Producs: pens, printer paper, staples, sticky notes and other office supplies are almost always needed.