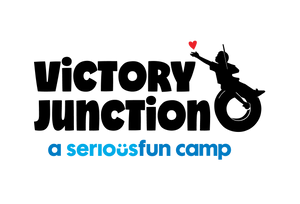 Victory Junction Shipping Label
Regular price $20.00 Sale
Victory Junction is a year-round camp facility for children with serious illnesses and chronic medical conditions. Founded by Kyle Petty and his family in honor of his son Adam, Victory Junction provides life-changing camping experiences that are exciting, fun, and empowering, in a medically-safe environment, always free of charge to families. Victory Junction's adaptive, intentional programming includes summer camp, family weekends, day programs, equine therapy, partner programs, and pediatric patient outreach. Victory Junction is a member of SeriousFun Children's Network founded by Paul Newman and is accredited by the American Camp Association.
At the beginning of every camp session, our campers find their very own blanket and camp teddy bear on their cabin bed. It's a little, snuggly way for campers to bring camp home with them. Each year we need 1,000 teddy bears and 1,000 blankets to ensure every camper is able to take their bear and blanket home.
What do Victory Junction bears look like? Any fun, bright, childlike fabric is welcome (does not have to include the black/white checked material). If using racing fabrics, please do not use any alcoholic or drug-sponsored fabrics. We ask you to please use the Simplicity #5461 pattern, Size 18-inch bear.  We will also accept bears made with the following patterns: Simplicity Pattern #1191, a 14-inch bear with a plain face, Simplicity 8044, or McCalls M6188.  We ask that all bears have a plain face and please omit vests.  We cannot accept bears with button eyes or noses.
What does a Victory Junction blanket look like? Camp blankets can be made of all fabrics around 36"x44"-standard lap blanket/throw size.