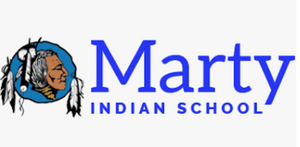 The Marty Indian School Shipping Label
Regular price $20.00 Sale
What we can use...
School supplies, back packs, tote bags
New and gently used children's clothing, shoes , boots, coats, sweaters, hoodies
New only - socks and underwear
Children's books, dolls, balls, beanie babies, toy trucks and cars, playground toys, craft materials, other small toys and games
Personal care items - soap, toothpaste, tooth brushes, shampoo, deodorant, sanitary items for girls, combs & brushes, etc
Small gift items suitable for parents or younger brothers & sisters
The Marty Indian School is a day school for children in classes K -12.  One of the features of Marty School is their Feather Store where children earn "feathers" ( they're actually paper feathers) for good behavior, doing their homework, and displaying Lakota values.  Parents receive the same amount of "feathers" when their children receive feathers.  The Feather Store has all sorts of necessary items like school supplies, clothing, shoes, sanitary products for girls, laundry detergent, cleaning supplies, small toys, dolls, books, snacks and other things kids would like.