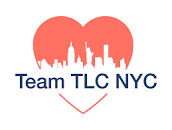 Team TLC NYC's Shipping Label
Regular price $20.00 Sale
Team TLC NYC's Little Shop of Kindness is a place of hope and sanctuary for those
newly arrived to the tristate area and the United States.
Monetary Donations
If you would like to make a tax-deductible gift, please mail a check to P.O. Box 1106,
Beacon, NY 12508, made out to Grannies Respond Inc. with memo "Team TLC NYC."
We buy wholesale so we are able to use your monetary donations efficiently.
• $10 allows us to provide a pair of well-fitting, high-quality jeans—a very
popular item—to an asylum seeker.
• $35 allows us to purchase a child's stroller.
• Just $1 provides a can of shaving cream and a razor to someone in need!
Clothing Donations
To donate, please send items to Team TLC NYC, 12 W. 40th St., New York, NY 10018,
and be sure to include a note with your name and email.
Our Little Shop of Kindness is open M-F* to accept donations of clothing & shoes. We
are no longer taking summer clothing. We will begin taking winter clothing effective
Oct. 1st. We need small and medium adult clothes; no L, XL or larger. Any size
children's clothing is accepted.
* DROP-OFF: Please call to schedule a drop off.
Urgent needs include:
• New and unopened underwear for men, women and children.
• Men's small and medium clothing, especially jeans, sweatpants, hoodies and
winter coats.
• Clothing of all types for children ages 6-12 and teenagers. Winter Coats being
accepted now.
• Practical shoes for men, women & children. (We're unable to accept high -
heels.)
• Women's small and medium clothing, including jeans, yoga pants, leggings ,
sweatpants, hoodies and winter coats.
• New or used strollers and baby carriers.
• Lightly used bras.
We are unable to accept jigsaw puzzles or books in both English and Spanish. We also
cannot accept housewares due to limited space.