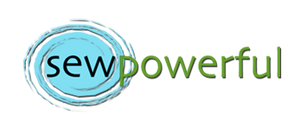 Sew Powerful Shipping Label
Regular price $20.00 Sale
What we can accept: Sew Powerful accepts Purses only made from the free patterns available on the Sew Powerful website and/or Notecards with words of encouragement for the schoolgirls in Zambia. Find examples HERE.

Mission:
Sew Powerful is a Christian ministry that works to combat extreme poverty by creating jobs that provide
training and tools to facilitate the creation of purposeful products. These include school uniforms,
reusable hygiene pads, soap, and farm fresh food. All designed to promote and enable the academic
success of children throughout Zambia, while providing the dignity of work for adults.

About Sew Powerful:
 Sew Powerful is a 501(c)(3) Christian ministry working to combat extreme poverty in the African country
of Zambia. We do this by hiring, training, and paying Zambian adults living in poverty. The staff consists
of seamstresses, soap makers and farmworkers. The salaries of the staff are 100% funded by donations. 
The remainder of the operation is conducted by unpaid volunteers who lovingly sew cute and colorful
purses using the Sew Powerful purse patterns. The finished purses, along with heartfelt encouragement
cards, are shipped by our volunteers to the Sew Powerful headquarters in the Seattle area. From Seattle,
the purses go by container ship to Zambia, where these purses are filled with the hygiene pads and soap
made by our staff. The filled purses are gifted to the schoolgirls as an incentive to stay in school all
month long. To learn more about how these purses create academic achievement in Zambia be sure to
watch our videos and learn about the issue of Menstrual Hygiene Management on the SewPowerful.org
website.
Sew Powerful has an ambitious goal of reaching every schoolgirl in Zambia by 2030. Won't you join us?