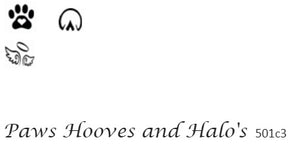 Paws Hooves and Halos
Regular price $20.00 Sale
What we need:
Leads, leashes & collars
dog & cat bowls
water bottles for small animals
brushes / grooming supplies
twin sheets
dog & cat toys
flea & tick meds
dog & cat treats
We are a small group of middle aged women who are fighting every day for every
animal's quality of life.
We do  not turn any animal away no matter the quantity of
vet care needed to get them happy & healthy again. Every animal is spayed /
neutereld and all vaccines given prior to being adopted. We also provide
heartworm treatment if necessary. While we brag that we are no kill we will
provide hospice care for those fur babies who are nearing the rainbow bridge.