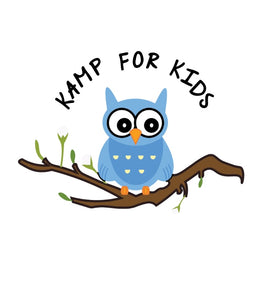 Kamp For Kids Shipping Label
Regular price $20.00 Sale
Kamp For Kids is a non-profit dedicated to helping change a child's life by empowering youth through the use of free camps and other fun programs for children with autism, youth who are underserved, and their families.  Our vision is to respect every individual regardless of the differences between us. We hope to build confidence and self-esteem, to forge leadership and skills in today's youth by establishing trust.
The donations received

 will 

provide the financial opportunity to reach more 

children
 and families

 
in need
. Thank you for your consideration!
New reusable water bottles
New sleeping bags or blankets
New toiletries, such as toothpaste, toothbrush, deodorant, soap, shampoo, etc. Travel sizes are okay.
New bookbags & school supplies
Gently used sensory-friendly activities or games.
Gently used cotton or silk scarves. (not winter scarves)