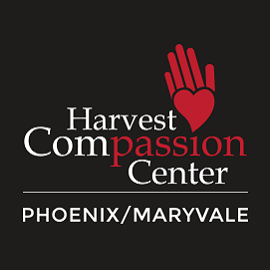 Harvest Compassion Center Shipping Label
Regular price $20.00 Sale
We are in need of the following items:  gently used infant, children's, men and women's clothing and shoes; gently used children's toys and books, small household items and office supplies.  We also accept unused, unopened hygiene items (including travel sized items), diapers and baby wipes.
HCC: Mitchell Swaback Charities (MSC) is a public, non-profit 501c who began operations in 2004.  With strong supporters of MSC living in the Phoenix area, MSC's board of directors approved the vision of opening a local food and clothing bank in the Valley.  This vision became a reality in 2011, when the Harvest Compassion Center (HCC) welcomed its first guest.  Since opening, we've provided for families who have lost jobs, lost homes, had major health crisis, gone through divorce, deportation, depression and more. Families who are single parents, orphaned children, new widows, and immigrants. Some guests come every thirty days and have become friends whose names we know well, other guests come twice a year only when their budget is really tight. It doesn't matter when we see our guests, what matters is every time they walk through our doors they are shown the love of the Lord.
-Our mission is to provide food and clothing in a hope-filled environment to the underserved in the greater Phoenix area.