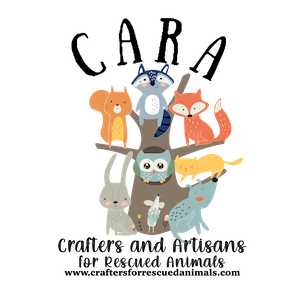 Crafters and Artisans for Rescued Animals, CARA
Regular price $20.00 Sale
Crafters and Artisans for Rescued Animals (CARA) is a registered nonprofit  dedicated to providing free handcrafted animal care necessities to rescues and rehabilitators' across the country, so they may focus on their animals in need.  We work with our rescues to design products that best help the animals.  We currently assist 250 rescues across the US and Canada and have shipped thousands of packages since starting in 2020.
List of items needed:
Comforters and flannel sheets to repurpose into pet beds, yards of fabric especially cotton woven, fleece and flannel, skeins of yarn.
Items for fundraising purposes such as designer bags, designer clothes, and jewelry.  
Items for our fundraising auction, such as animal themed items (not limited to pet supplies), collectibles, small home decor items, watches, etc.