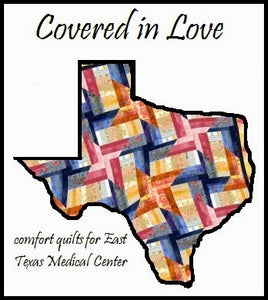 Covered In Love Shipping Label
Regular price $20.00 Sale
Covered In Love gladly accepts donations of finished quilts, unfinished
quilt tops or blocks, and supplies such as batting and fabric suitable
for quilt backings.
Quilts need to be at least 45"x60", so they can be used by the families
as throw quilts after they are home.  60"x70" is the ideal size.  Almost
all our quilts are given to adults so please keep that in mind when
choosing fabrics.  Quilts needs to be machine wash/dry safe!  Hospitals
are NOT clean places so at the very least the quilts need to be washed
once when they are taken home."
Covered in Love is a 501(c)(3) quilting charity that provides comfort
quilts to patients who pass away in the hospital.