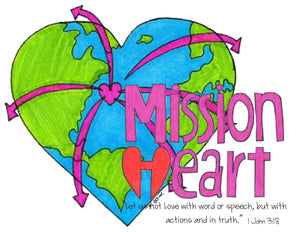 Mission Heart Shipping Label
Regular price $20.00 Sale
Mission
Heart
promotes the Gospel of Jesus Christ by meeting physical needs of people in the United States and around the World.  
       We accept donations of used goods, process them, and give them to a variety of ministries.  Currently we are working a lot with ministries in Zambia, Romania, Liberia, Nebraska Homeless Shelters, Reservations in South Dakota, Disaster Relief, and Foster Care.  
        In addition to processing used goods, we sew cloth diapers, sanitary pads for girls, baby booties, and blankets for children.  We, also, pack hygiene kits, and baby care kits. These require that we purchase some new items. 
Items needed: Baby clothes preemie-18 months, new or good used condition, cloth diapers, diaper pins, waterproof diaper covers, wash cloths, hand towels, baby spoons, baby pacifiers, small baby toys, like teethers and rattles,  sippy cups, school supplies, flannel yardage, motel soaps, shampoos, lotions, nail clippers, toothbrushes, new girls' underwear sizes 10-16, new women's underwear sizes 5-7.