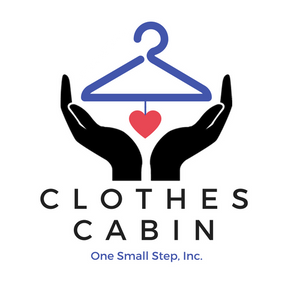 One Small Step Shipping Label
Regular price $20.00 Sale
What we accept:
Children's clothing

 

(school age) sizes 4 – 16 in good condition (no stains, holes, or extreme wear)
Basic linens: sheets, towels (they don't need to match, free from stains)
Athletic shoes:

 

in good condition (all sizes, no holes, or extreme wear),
New socks

 

and

 

New underwear

 

(no used underwear or socks)
Bras-  all sizes, gently used
Unopened hygiene products

 

such as shampoo, body soap, lotion, razors, toothpaste, toothbrushes, and deodorant.
One Small Step, Inc. in Gilbert, Arizona is a non-profit organization that has been helping individuals and families in need since 2009. Its primary program is Clothes Cabin, where people can come to get free clothing, shoes, hygiene products, and household linens (sheets, towels, and blankets). Each year, more than 2,000 families receive help. A second program addresses needs for the homeless population: showers, laundry, clothing, storage lockers, and mail slots. A third program, Back-to-Work, provides new steel-toed work boots to people who need them to get a job, and also uniforms, interview clothing, and other specific work-related footwear.
Our Mission: We help children, families, and individuals in need to attain a more productive life by providing high quality clothes, shoes, and other services.