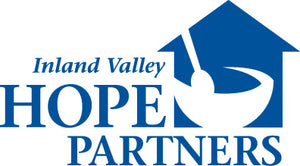 Inland Valley Hope Partners Shipping Label
Regular price $20.00 Sale
Inland Valley Council of Churches, dba Inland Valley Hope Partners, has been building hope for homeless and no or low income families in the east end of Los Angeles County and the west end of San Bernardino County since 1968. Through our comprehensive service delivery, and collaboration with local service providers, families and individuals in crisis find hope once again and are empowered to break the cycles of poverty and despair. 
Over the years, our programs have evolved and changed to reflect the needs of the communities we serve. The Hope Partners of today is a strong, financially stable and forward-looking agency making significant inroads in the chronic challenges of providing shelter and food for those in need. We annually serve approximately 75,000 children, women and men throughout our three core programs: Food Security, Housing and Healthy Living.
Inland Valley Hope Partners is need of the following:
Staple Foods- Peanut Butter, Rice,  Baby Food, Canned Chicken, Baby Formula,  Cereal, Pasta, etc.
Hygiene Products- Soaps, lotions, shampoos, conditioners, feminine products, toothbrushes, toothpaste etc.