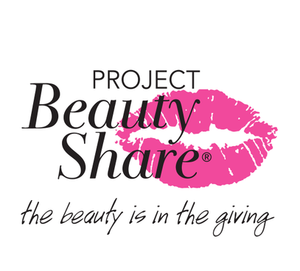 Project Beauty Share Shipping Label
Regular price $20.00 Sale
Project Beauty Share is a 501(c)3 nonprofit that provides personal hygiene, cosmetics and beauty products to non-profit organizations who serve women and families overcoming abuse, addiction, homelessness and poverty to help restore hope and dignity in their lives.
Did you know that SNAP food benefits (food stamps) do not cover personal hygiene items such as: shampoo, oral hygiene, feminine hygiene, or toiletries? Our mission allows Project Beauty Share to donate thousands of dollars' worth of products to agencies and organizations in the Northwest and beyond. A women should never have to choose between basic hygiene and a meal for her children.
Donations: We accept a variety of product including face product, hair product, oral hygiene, feminine hygiene, and barely used make up and beauty products. For the list of our guidelines please visit our what to donated page for more details. https://projectbeautyshare.org/what-we-accept/
Our greatest needs:
Shampoo/conditioner
Razors/Deodorant (must be new)
Oral hygiene (must be new)
Feminine hygiene (especially tampons)
When sending  pump lotions and liquids please secure lid in locked position and pack boxes tightly.
**pro tip: instead of using bubble wrap, use new pads and tampons as fillers when packing boxes (we are able to distribute them to women in need AND it is better for the environment!)