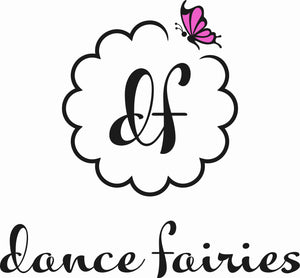 Dance Fairies
Regular price $20.00 Sale
Collecting: 
Gently used or new dance costumes and leotards (all sizes)

Brand new or very gently used ballet, tap, and jazz shoes (all sizes)

Brand new pink, tan, and black tights (all sizes)
Additional Information: 
Dance costumes and leotards must be in good condition without any stains or tears. Please do not send costumes that are more than 10 years old.  

Shoes must come in a pair and tied together, cleaned, sanitized, and in perfect condition. Please do not send any dance shoes with holes or more than 10 years old. 

Before purchasing the shipping label here and sending your donation, please contact the Dance Fairies organization at contact@dancefairies.org and confirm the items they are accepting at the moment. They will email you the form that has to be included inside the box with your donation and will also issue you a tax receipt.   
Description of Organization:
Dance Fairies is a non-profit organization founded by a passionate young dancer. The sole mission of the organization is to spread the joy of dance to aspiring young dancers in the community and around the world. After the performances and competitions, dance costumes usually end up in closets taking up space and collecting dust. This is where Dance Fairies come in! Not only are they giving those costumes a second chance to sparkle on stage, but they are sharing their love of dance with those less fortunate and reducing the impact on environmental resources. Their "reuse and reduce" efforts have a direct positive impact on young aspiring dancers and the global landfills. Since embarking on their journey four years ago, they were able to collect and re-distributed thousands of gently used costumes, leotards, and all types of dance attire to aspiring dancers near and far. 
Dance Fairies' mission in 2022 is to collect and re-distribute 10,000 costumes. To reach their goal, they need YOU! Please consider donating and help make a difference in the life of a little dancer who does not have access to needed dance attire. Your involvement will allow them to help many children and bring a glowing smile to their faces!
For more information about our organization, please visit our website at www.DanceFairies.org or Facebook page at https://www.facebook.com/DanceFairies/